Landscape & Hardscape Services
mission statement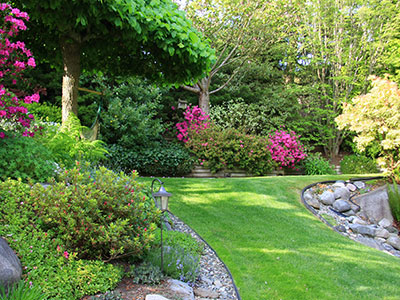 We at Land X Landscape Construction, Inc. are passionate about what we do. That's how we have built very strong relationships with clients in and around Rancho Cucamonga, Ontario and Chino. We bank on the business we get from repeat and new clients in Upland, and Alta Loma.

This gives us the chance to use our creativity and skills to beautify the region, one landscape at a time. Over the years, our experience and commitment to quality has helped us build a very strong base in Fontana, Claremont and the surrounding cities. The range of landscaping services we offer includes:


Landscape Designer
We provide customized landscape designing services to commercial and residential clients. Our landscape designer will have detailed discussions with you regarding your specific needs and ideas about how you want your outdoor spaces to be. Based on these discussions, they will provide 2D and 3D plans that show very clearly how these spaces will look once they have been installed. We work very closely with you to make sure that your ideas are incorporated into these designs. Our team uses its creativity, skill and experience to ensure that every aspect of your landscape is remarkable in appearance, functional and durable. Read More About Landscape Designer »


Online Landscape Design
Many property owners, landscape contractors and architects require online landscape design solutions. As a company that has been operating in this industry for decades, we have the ability as well as technology to provide excellent online landscape design services to our clients. Our landscape designs will include your ideas, preferences and would be based on your budget as well. Designing landscapes using CAD software helps ensure that clients are able to see how their outdoor spaces will look once all the features are in place. The renderings will have details about effects and textures as well as all the installations in your landscape. Read More About Online Landscape Design »


3D & 2D Landscape Design
Some of the basic prerequisites of designing landscapes is that the professionals who handle the job should have the creativity, experience and skills to provide unique landscape plans. However, it is equally important to have access to advanced technology like the one we use in our projects. We use CAD technology and provide 2D as well as 3D plans to our clients. There is a distinct advantage to using 3D pictures and videos in landscaping projects. These give clients a clear idea of what their landscape will look like at completion. It easier to make alterations in the plans before any of the installation starts. This also saves clients excess expenditure on fixing things or making alterations later. Read More About 3D & 2D Landscape Design »


Landscape Contractor
We have been in the landscape contracting space for over 28 years. In this period of time we have handled jobs of every scale and complexity for commercial and residential clients. When we handle your landscape construction job for you, you can rest assured that the best quality materials will be used and that skilled and experienced technicians will handle all the construction work. Since we are landscape designers ourselves, we have deep understanding of how different materials work which helps us provide excellent services to our clients. All the features that we install for you will be as per the plans provided by the designer and will meet your expectations. Read More About Landscape Contractor »


Landscape Installation
We are a full-scale landscaping company that provides design and installation services. Not only do we handle smaller residential jobs but also large-scale commercial ones. Whether you want a patio installed in your yard or want us to construct an entire landscape, we can provide the best solutions. Landscape installation requires a significant amount of expertise and skill. With the vast experience we have in this industry, we know how to handle installation of all types of hardscaping and softscaping elements. We use high quality materials in our work and follow best practices in the construction of landscapes. This ensures the longevity and resilience of your outdoor spaces. Read More About Landscape Installation »


Pool Designs
When you are getting a swimming pool installed on your property, you need to ensure that it is designed to perfection. This aspect of the pool isn't related only to its appearance. A well designed pool will always be stable, engineered perfectly and will be made using the right materials as well. All these aspects are very important in swimming pool plans. Our team of designers works with you to create the best swimming pool plans, based on your specific requirements and preferences. They will ensure that the top quality materials are used in the plans which help you maintain the feature in a better way. Aspects such as energy-efficiency and water-efficiency will also be taken into consideration while designing swimming pools. Read More About Pool Designs »


Pool Installation
Installing a pool is a specialized job. As a company that has vast experience in this industry, we can handle swimming pool construction of different types. Whether you want an in-ground or above ground pool or one made of vinyl, concrete or gunite, we can provide the best solutions. Our team of swimming pool installers has handled projects of different types for commercial and residential clients. In addition to the actual pool installation, we also handle design and construction of the surrounding areas and install swimming pool coping as well. Care will be taken to ensure that the best quality materials and construction practices are used in these projects. Read More About Pool Installation »


Outdoor Living
Improving the functionality of the outdoor spaces of your property is not just about choosing attractive outdoor living features. Outdoor kitchens, decks, patios as well as poolscapes need to be designed well in order to improve their usability. With the experience we have in this industry, we are able to design and plan outdoor living spaces that can add true value to your property and provide years of entertainment and enjoyment to your family. Regardless of whether you want a simple paver patio installed or need a gazebo, pavilion or outdoor kitchen, we can handle the project to your 100% satisfaction. Read More About Outdoor Living »


BBQ Islands
A BBQ island is a great addition to your outdoor living space and we can install this as part of your new outdoor kitchen project. If you need this feature constructed in an existing outdoor kitchen space, we can handle that job for you as well. We are very creative in our approach and will make sure that your new BBQ Island is the perfect blend of functionality, aesthetics and practicality. The use of high quality materials and superior craftsmanship ensures that the structure is perfect in every way. We will also ensure that your BBQ Island blends in perfectly with the rest of the features in the space. Read More About BBQ Islands »

When you want high quality landscaping services, Land X Landscape Construction, Inc. is the company to come to. We distinguish ourselves not just in the knowledge and expertise that we bring to the table, but also the outstanding support we provide our clients. We are always just a phone call away. You can contact us at this number- 909-724-1461 or feel to connect with us via live chat or email, 24/7. That's how serious we are about what we do.
We Provide Services to the Following Cities, Towns and Surrounding Regions of CA: