Landscape & Hardscape Services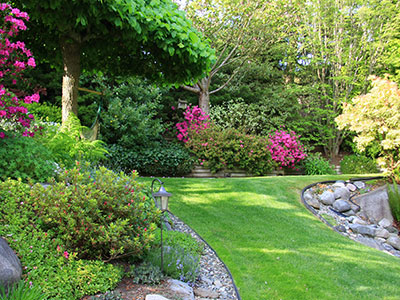 We at Land X Landscape Construction, Inc. are passionate about what we do. That's how we have built very strong relationships with clients in and around Rancho Cucamonga, Ontario, and Chino. We bank on the business we get from repeat and new clients in Upland, and Alta Loma.

This gives us the chance to use our creativity and skills to beautify the region, one landscape at a time. Over the years, our experience and commitment to quality have helped us build a very strong base in Fontana, Claremont, and the surrounding cities. The range of landscaping services we offer includes:


LANDSCAPE DESIGN
We provide customized landscape designing services to commercial and residential clients. Our landscape designer will have detailed discussions with you regarding your specific needs and ideas about how you want your outdoor spaces to be. Based on these discussions, they will provide 2D and 3D plans that show very clearly how these spaces will look once they have been installed. We work very closely with you to make sure that your ideas are incorporated into these designs. Our team uses its creativity, skill and experience to ensure that every aspect of your landscape is remarkable in appearance, functional and durable. Read More About Landscape Design »


OUTDOOR KITCHEN BBQ ISLANDS
A BBQ island is a great addition to your outdoor living space and we can install this as part of your new outdoor kitchen project. If you need this feature constructed in an existing outdoor kitchen space, we can handle that job for you as well. We are very creative in our approach and will make sure that your new BBQ Island is the perfect blend of functionality, aesthetics and practicality. The use of high-quality materials and superior craftsmanship ensures that the structure is perfect in every way. We will also ensure that your BBQ Island blends in perfectly with the rest of the features in the space. Read More About Outdoor Kitchen BBQ Islands »


ALUMAWOOD PATIO COVER
Outdoor constructions are constantly exposed to the weather, and when shopping for a patio cover, you'll want one that looks fantastic and is also sturdy and long-lasting. For a variety of reasons, we suggest Alumawood patio coverings. These robust patio coverings combine wood's natural beauty and warmth with the ease of maintenance associated with vinyl products. Your patio cover will outlive vinyl or wood since aluminum does not rust. We can assist if you're looking for a customized Alumawood patio cover for your yard. Our experts provide customization options, and our team is here to provide you with all the information you need about the material and these excellent patio covers. We ensure that you get a superb patio cover, sized perfectly, and seamless addition to your backyard. We also complete the shade installation on time and within budget so that this excellent outdoor structure will last for years with minimal maintenance. Read More About Alumawood Patio Cover »


ARTIFICIAL TURF
People like lush, green grass in their landscape. However, maintaining these installations requires considerable work and time, which most people lack. This is when artificial grass helps a lot. This low-maintenance alternative to natural grass is excellent for residential and commercial applications. The convenience factor is one of the significant benefits of artificial grass. You are not required to mow, water, fertilize, or otherwise care for it. You can clear the trash and leaves with a blower and water the synthetic grass regularly. The finest artificial grass is quite resilient, and it will last for at least ten years, if not longer. Even when it is exposed to UV rays from the sun regularly, it is weather-resistant and will not fade. These qualities are hard to miss; so many people are giving natural grass installations a miss and opting for artificial turf on commercial and residential properties. Read More About Artificial Turf »


FIRE PIT AND FIREPLACE
Adding a fire pit or fireplace to your outdoor spaces is a fantastic way to create the ambiance you want. When these elements are installed in your yard, they lend a pleasant and comfortable atmosphere to your property. We build unique fire pits and fireplaces for you, ensuring that the designs suit your property's existing landscape and architectural characteristics. Over the years, we've built a solid client base, and many of our clients return to us for new fire feature installations or replacements to existing structures. While suggesting materials, we consider previous landscape materials and supplies and then incorporate similar features into the fire features for a seamless look. We use various fire-resistant materials in the pits to ensure safety and longevity, including river stone or recycled glass. Additionally, our business can assist you in planning the area around the fire feature, so you have the perfect outdoor relaxation zone. Read More About Fire Pit and Fireplaces »


MASONRY WALLS AND PLANTERS
Adding brick wall components to your landscape can be extremely helpful, providing stability and beauty to the areas. These block walls are specifically developed for outdoor settings prone to soil erosion or have gradient-related difficulties. Along with plants, block walls provide outdoor areas with a fantastic viewpoint. Planters are an excellent method to enhance the beauty and utility of your landscaping. You can use the planters to display various flowers and plants to create lush, verdant outdoor settings. Our team will work with you; to provide masonry wall plans that incorporate planters. These serve the required purpose while looking great in the landscape. We will make sure that the planter design and layout complement the walls so that your outdoor spaces have a seamless and cohesive look. We work with you, taking the time to understand your needs before coming up with the best masonry wall and planter plans. Read More About Masonry Walls And Planters »


OUTDOOR LIGHTING
Outdoor lighting is one of the variables that contribute to the uniqueness of a landscape. Property owners often overlook this vital part of landscape architecture, diminishing their outdoor spaces' beauty and functionality. You cannot get a magnificent sight by just turning on the lighting outside your home. With the help of a range of landscape elements, you can improve the ambiance of commercial and residential outdoor spaces. Along with accentuating and enhancing the outstanding features of your environment, lighting also helps complete your home/business design. Our clients can rely on us to provide high-quality outdoor lighting alternatives. We understand how to strategically arrange lights for the optimal outdoor lighting impact for your house or business. Along with the best lighting systems, we can provide you with high-quality underwater lighting to highlight your property's ponds and water features. This thorough approach helps create well-lit outdoor spaces, which you can use optimally. Read More About Outdoor Lighting »


PAVER AND CONCRETE
Concrete and paved surfaces are common on commercial and residential properties of all shapes and sizes. We are skilled hardscapes that offer a range of paver installation and concrete services. Our company can plan your outdoor spaces perfectly so that you have ideal spaces for relaxation and entertainment. We also handle concrete commercial projects covering everything from driveway, sidewalk, and pathways to fire feature areas and patio and deck installations. Our team is knowledgeable and focused on customization, so you get stunning outdoor regions that align with your needs. We use the best materials and installation methods, and your outdoor areas remain resilient, attractive, and easy to maintain for many years. We offer all these services at cost-effective pricing; you get excellent value every time you hire us. We are also committed to preserving quality and completing your residential and commercial paver and concrete installations on time. Read More About Pavers And Concrete »

When you want high-quality landscaping services, Land X Landscape Construction, Inc. is the company to come to. We distinguish ourselves not just in the knowledge and expertise that we bring to the table, but also in the outstanding support we provide our clients. We are always just a phone call away. You can contact us at this number- 909-724-1461 or feel to connect with us via live chat or email, 24/7. That's how serious we are about what we do.